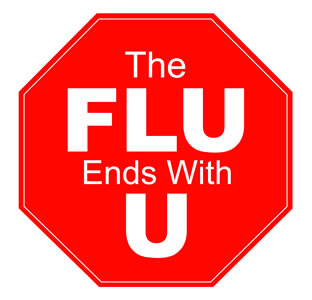 Flu season is creeping around the corner. If you want to avoid a sudden bout of sickness in the middle of finals week, or if you have a sibling at home that you'd rather not see coughing, then take some time to get the 2014 Flu Vaccine if you haven't already. According to the Centers for Disease Control's (CDC) online reference guide to influenza, January is prime time for that unwelcomed bug. In fact, there is more than one strain of influenza that you should watch out for.
Health Services at Skidmore is offering the standard-dose trivalent shot (IIV3), which protects against three different strains of influenza. Get it as soon as you can, because it takes approximately two weeks to become effective.  IIV3 contains gelatin and eggs, so people with corresponding allergies should talk to a doctor about other available options. You should also avoid the generally available flu vaccine if you have Guillain-Barré syndrome (GBS), have had an allergic reaction to previous flu vaccines, or are currently suffering from a serious illness.
Health Services is open Monday-Friday from 9 a.m. to 12 p.m. and 1 p.m. to 5 p.m., and Sundays from 12 p.m. to 5 p.m. Walk-ins are accepted every day. Call (518) 580- 5550 to make an appointment for a weekday if you're in a rush and want to be seen quickly.
Health Services will be closed on the Wednesday before Thanksgiving Break and will be open on the following Monday  during regular hours.
Thanksgiving Break is a good time to see your doctor to make sure everything is functioning properly after a long, exhausting semester. If you can't make it to Health Services, see your doctor back home for a flu shot and a quick check up.
For those convenience junkies, select CVS pharmacies nationwide provide flu vaccines at Minute Clinics. Check to see if your area has one at http://www.cvs.com/minuteclinic/clinic-locator.
For a more comprehensive guide to understanding seasonal influenza and what you can do to prevent it from infecting you and those loved ones around you, check out
http://www.cdc.gov/flu/protect/whoshouldvax.htm#flu-shot.